realityho
Feb 16
Hahahaha… I miss Flavor of Love.

(Source: backtothejerseyshore, via pairuhdocks-deactivated20120131)
Click here for Flavor of Love Season 1 on Hulu!
So it's come to my attention that people are still reading Realityho…
so maybe I should step it up!
Shows I'm currently following:
Teen Mom 2
Jersey Shore (obv)
Real Housewives of (wherever they are right now)
And as much of The Bachelor as I can bear
Also I recently re-watched all of Flavor of Love Girls: Charm School. I forgot how great that one was.
(via waitilovethis)
Snookin' for love.
(via waitilovethis)
Jun 24
Danielle Staub's sex tape is NAUSEATING
The verdict is in on The Real Housewives of New Jersey's Danielle Staub's sex tape… gross! I couldn't stomach sitting through the whole thing but couldn't resist taking a peek to see if her boobs really were as awful as her latest plastic surgeon says. I now know that Jaqueline's daughter, Ashley, was justified when she told Danielle to fix her "square tit."
Also, girlfriend is… bedazzled.
For brave souls, click here to check out 15 minutes of the action on UnratedPerez.com! Nasty!
Jun 22
Danielle Staub gives 'tude… what else is new?
After a fairly quiet episode of The Real Housewives of New Jersey last night, everybody's least favorite house-ho appeared on Watch What Happens Live where she only reaffirmed what everyone already knew—that she is lame.
Danielle gave Andy and viewers her trademark paranoid-psycho-too-much-plastic-surgery 'tude. Taking the bullet, one viewer asked the question on everyone's mind: "did you get more work done to your face?" Danielle denied it, but I think her permanent pouty scowl speaks for itself.
Danielle later sang a little number with a lesbian pianist and tried to suggest that they may be involved. Too bad her lady lover shook her head NO when Andy asked if there was anything going on. Girl had the right idea!
Jun 16
Bachelor Kasey is kinda kreepy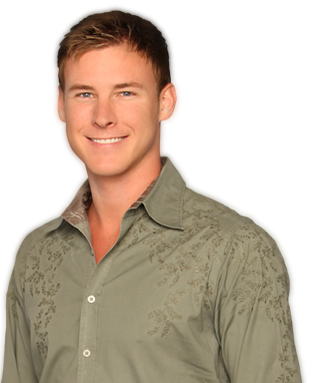 This week on The Bachelorette, Kasey wanted to prove his undying love for Ali by getting a hideous tattoo on his wrist. The tat depicts a heart and a rose being protected by a shield with 11 stones/diamonds/whatever on it. He says it represents his dedication to protecting Ali's heart while the 11 stones represent his 11 "brothers" aka the other guys (one of which he openly admits to disliking). To top it all off, he didn't even get a chance to show his work of art to Ali before the Rose Ceremony, in which he mysteriously got a rose anyway.
It won't be long before Ali realizes the best thing Kasey can do to protect her heart is to stay far far away from it!
My pick: Frank, for the win.
Check your couch cushions… Kelly Bensimon has lost her mind
It should come as no surprise to anyone, but Kelly Bensimon of Bravo's The Real Housewives of New York City has lost it. You would think she would have somehow acknowledged her insanity on "scary island" this season on Monday night's Reunion Part 2, but no such luck! Rather than admitting she had acted like a crazy bitch and apologizing for being so RUDE to Bethenny, Ramona and Alex, she decided to use the reunion as a platform to speak out against "systematic bullying." WTF?!
Earlier this week, Ramona blogged:
I found it very sad that Kelly does not realize her problems and tried to spin it as though we bullied her, four against one. Bullying is a very serious issue that is happening to young children and young adults and she is making a mockery of it by her claims. I always knew something was off with her, but now all of America can see how really out there she is in "Kellyland."
Amen, sister.
Team Bethenny!